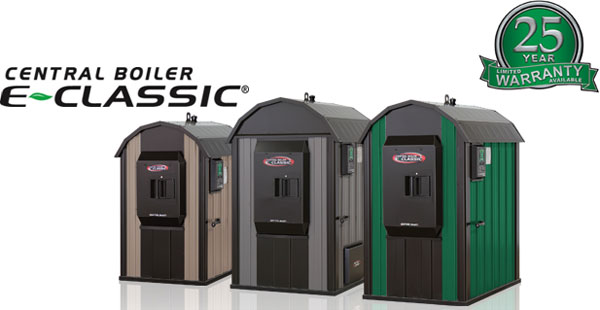 E-Classics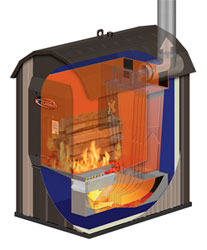 E-3250 Cutaway
Central Boiler was the first manufacturer to have an EPA Phase 2 qualified stove
They are years ahead of the competition in design because they had one years before them, they have sold more EPA models than ALL other manufacturers combined!
All E-Classics are EPA Phase 2 qualified to meet the most stringent emission standards
Lower emissions equates to higher efficiencies with Central Boiler's design
Most efficient outdoor wood furnaces on the market as we derived from latest EPA test results the E-3250 came back at 97% efficient
Uses cutting edge technology, not like using inefficient century old steam engine designs
Customers have cut their wood consumption up to 70% by switching to an E-Classic
The E-Classic was awarded the prestigious VESTA Award for innovation in design and technology
Dual firebox design incorporates the Reaction Chamber for combustion efficiencies approaching 100%
3 stage burn process reaches temperatures over 2,000°F
Xtract™ heat exchanger system allows you to get the most heat out of your wood and is self-cleaning
Competitor's models can require the heat exchangers to be cleaned weekly to maintain high efficiencies and some have over 20 tubes to clean, that's a lot of wasted time!
Firestar II internet ready controller allow you to monitor it from your smartphone, laptop, or other internet enabled device
Charge tube forces smoke and gases through the coals super heating them for an almost complete combustion.
25 year warranty on workmanship and titanium enhanced stainless steel firebox has a 25 year warranty on corrosion. Call for full warranty details.
Click here to download a factory brochure.
E-3250
***Call Today for a Huge Cash Discount!***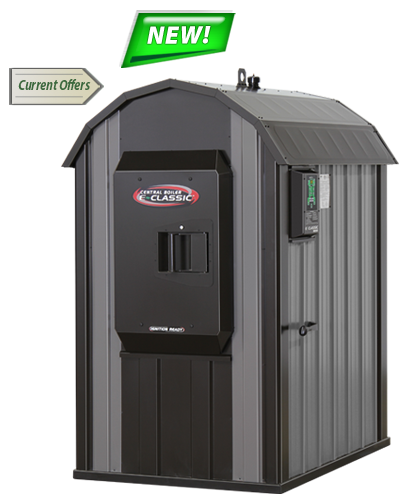 Specifications:
The largest Phase 2 qualified outdoor wood furnace on the market
Most efficient outdoor wood furnace on the market, Hi-Efficiency top performer in EPA test. commercial use only
Able to heat up to 20,000 sq. ft. depending on construction, call for proper sizing
Can heat multiple buildings, pools, hot tubs, domestic hot water and more
Self-cleaning heat exchanger requires minimal maintenance
EPA Phase 2 qualified for ultra-low emissions, only smokes during startup
Meets state and most local regulations on emissions, please check your local codes before purchasing
Firestar II controller can connect to the internet with the XP module so you can monitor your stove from any internet enabled device
Stainless steel with titanium enhancement used in firebox, combustion area and heat exchanger. The ultimate in corrosion prevention.
Holds 410 gallons of water
Weighs 3,050 lbs.
Firebox 40" x 48" x 30"
Up to 306,000 BTU's/hr.
22.5" x 28.5" door for easy loading
Insulated rear access door, rear ash removal
Call For Cash & Volume Discounts, Best Price Guarantee*